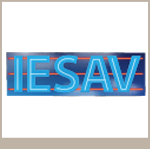 Established in
01/01/1988
Director
M. Elie YAZBEK
IESAV is a teaching and training institute attached to the USJ Faculty of Literature and Humanities.
It consists of a department of fundamental studies, which ensures undergraduate-level training in 6 semesters, and of a department of higher learning, which is in charge of issuing master's degrees.

Each department is divided into two major sections, the Audiovisual and Cinematographic section and the Theater section.
Website
http://www.iesav.usj.edu.lb
Address
Campus of Human Sciences

Telephone : +961 (1) 421 530
Fax : +961 (1) 421 056
Email : iesav@usj.edu.lb
---
Institutes, schools and departments
---
Program (Details In French) 2019 - 2020
Continuous training 2019 - 2020
Voici la liste des formations proposées par cette institution : Cliquez sur l'intitulé qui vous intéresse pour obtenir toute l'information concernant les inscriptions, le coût des études et les crédits obligatoires.