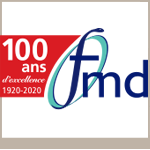 Established in
01/01/1920
Dean
Dr Joseph MAKZOUME
The Faculty of Dental Medicine's program is divided among five years, and it consists of clinical internships, practical work, and theoretical courses. Successfully following this program results in a PhD in dental surgery.
Website
http://www.fmd.usj.edu.lb
Address
Campus of Medical Sciences

Telephone : +961 (1) 421 280
Fax : +961 (1) 421 024
Email : fmd@usj.edu.lb
---
Institutes, schools and departments
---
Program (Details In French) 2018 - 2019
Continuous training 2018 - 2019
Voici la liste des formations proposées par cette institution : Cliquez sur l'intitulé qui vous intéresse pour obtenir toute l'information concernant les inscriptions, le coût des études et les crédits obligatoires.