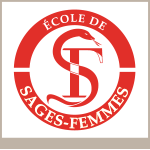 Established in
01/01/1922
Director
Dr Issa FARKH
The School of Midwifery aims to train midwives who will be able to work in the field of perinatal and reproductive health in Lebanon and abroad.
The training provided by the program enables students to:
- Develop an autonomous and responsible professional practice,
- Develop personal growth in the cognitive, affective, and psychomotor fields,
- Improve the health of mothers and newborns through care focused on prevention, protection, and rehabilitation,
- Develop research skills and practice based on research findings,
- Develop teaching, communication, and group activity skills.
Website
https://esf.usj.edu.lb/
Address
Campus of Medical Sciences

Telephone : +961 (1) 421 253
Fax : +961 (1) 421 023
Email : esf@usj.edu.lb
---
Program (Details In French) 2018 - 2019
Continuous training 2018 - 2019
Voici la liste des formations proposées par cette institution : Cliquez sur l'intitulé qui vous intéresse pour obtenir toute l'information concernant les inscriptions, le coût des études et les crédits obligatoires.