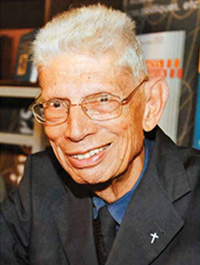 Jean Ducruet was born on the 25th of February 1922 in Bourg-en-Bresse (France). He received his baccalaureate degree in 1941, and at the age of 21 entered the Jesuit Order in Mongré in November of 1942.
After a forced stay in Germany between 1942 and 1945, during which he carried out compulsory work, Ducruet resumed his education: he studied Arabic in Bikfaya (Lebanon) between 1948 and 1950 and received an undergraduate degree in law in 1951 (from both Beirut and Lyon). In 1953, he earned another undergaduate degree in philosophy (Chantilly) before earning yet another in theology in 1957 (Fourvière, Lyon). In 1960, he received his PhD in Economic Sciences (Paris).
He was ordained priest in the French city of Lyon on the 31st of July 1956. He pursued his studies in Connecticut, USA, and took his final vows in Vanves (France) on the 15th of August 1960. In the same year, he settled in Lebanon where he became a professor of Economics. He then became an advisor to the Faculties of Law and Economic and Administrative Sciences at USJ. He subsequently served as Rector of the University from 1975 until 1995.
He was appointed Managing Director by the French Hospital Association at the Hôtel-Dieu de France Hospital in Beirut in 1981. He served as Chairman of the hospital's Board of Directors from 1984 until 2001. He was also director of the USJ University Center for Ethics between 1995 and 2010, as well as spiritual counselor of the Society of the Sacred Heart (congrégation des Sœurs des Saints-Cœurs).
In 2001, he was appointed Vice-President of the Lebanese National Advisory Ethics Committee for the Life Sciences and Health.
He passed away on the 10th of March 2010 in Beirut.
Publications
R.F. Jean Ducruet published several works on various subjects, all in French:
Les capitaux européens au Proche Orient, Paris, PUF, coll. «Études économiques internationales», 1964, 468 pages.
Un siècle de coopération franco-libanaise au service des professions de la santé, Beirut, USJ Publications, 1992, 467 pages.
Livre d'Or des Facultés des sciences médicales et infirmières, 1883-1983, Beirut, USJ Publications, 1992, 440 pages.
Livre d'Or de la Faculté de droit, sciences politiques et économiques, 1913-1993, Beirut, USJ Publications, 1995, 430 pages.
L'Université et la Cité, Beirut, USJ Publications, 1995, 310 pages.
Livre d'Or de la Faculté d'ingénierie, 1919-1999, Beirut, USJ Publications, 1999, 430 pages.
L'Université Saint-Joseph de Beyrouth et ses institutions, 1875-2002 (in collaboration with Henri Owit), Beirut, USJ Publications, 2006, 100 pages in French – 162 pages in Arabic.
Le service de la santé au Liban. Histoire, législation, institutions, état de santé de la population et prestations de soins, système et politique de la santé, Beirut, USJ Publications, 2009, 327 pages.
Le respect de l'éthique dans le domaine de la vie humaine, Beirut, USJ Publications, 2010, 230 pages.
He also wrote dozens of articles and conducted extensive research in both French and Arabic, published in magazines:
Revue de l'Action populaire, Proche-Orient, Etudes Economiques, Travaux et Jours, and el-Machriq magazine.