Are you looking for exciting multicultural journey this summer? Then Audencia's Summer Term is the perfect solution!
The Summer Term is based on a combination of course work, company visits and city tours.
It is made to be very flexible and students are welcome to join us for 1 week, 2 weeks, 3 weeks or the complete 8 weeks!
Application procedure for USJ STUDENTS:
1. Choose the course/s you want to attend and get the approval of your Director/Dean at USJ.
2. Fill USJ's outgoing mobility form available on our website: http://www.usj.edu.lb/sri/pdf/Formulaire-de-mobilite-SORTANTE.pdf
3. Have it signed by your Director/Dean at USJ and send it to USJ's international relations office located at the Rectorate, Damascus road.
4. USJ's international relations team will send your NOMINATION to the host university.
5. Once nominated by USJ, students will be contacted by Audencia in order to proceed with their application.
Deadlines:
nomination deadline: March 1st, 2019
application deadline: March 15th
Nominated students from USJ do not have to pay any tuition fees.
Each week, students have to choose one module.
The summer term 2019 will take place from May 20th to July 12th of July with the following courses: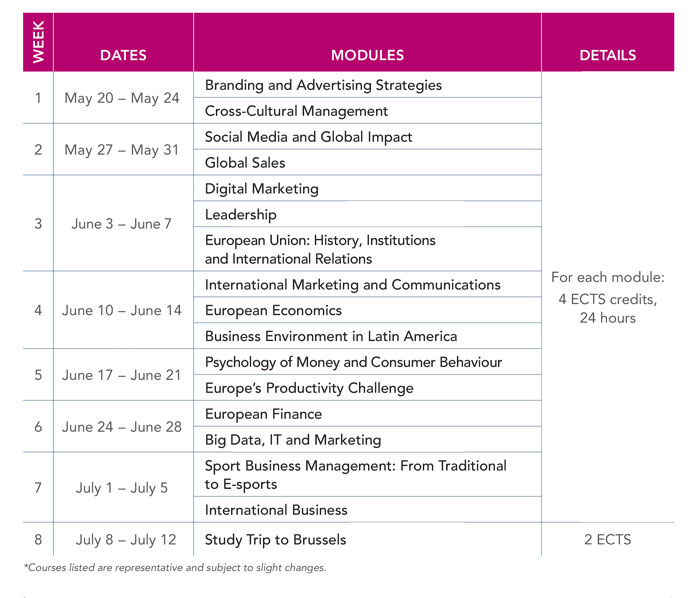 Students can also take part in:
Company visits to Airbus and Cointreau;
French as a Foreign Language courses;
Social and cultural activities organized by French students.
As the number of places is limited, we advise students to apply as soon as possible.
For more information, here are some useful links :
Please do not hesitate to contact sri.mobilite@usj.edu.lb or summer@audencia.com should you have any questions or call +961 1 421 000 ext. 1275 - 1158